No excuses, I was properly chicked this time. Covered the same distance as Sarah but a whole 8 minutes slower. For those of you that have not taken in the Endurance Life: CTS Dorset event yet I can tell you now it is damn tough. To those guys that ran the ultra-marathon (Joe Dale and Andrew Finn) or marathon (Guy Holbrow and Sebastian Arroyave) two years ago, I have the utmost respect for you. I ran the 16mile 'half-marathon' event three weeks ago. It was definitely the toughest running event I have taken part in so far. I say so far because I have much more challenging events in the calendar for next year including two trail marathons and a trail ultra-marathon.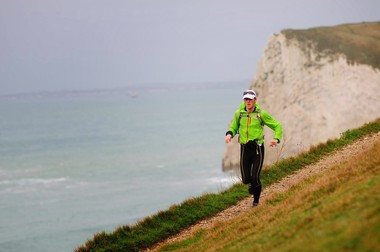 I have never run a marathon before. The closest I came was a 36km trail running event that Sarah and I did last year called the Preseli Beast in Pembrokeshire. It is a fantastic event should any of you decide you are up for the challenge. I decided to use CTS Dorset as a bit of test event. I wanted to know what I could do with no fuel or water. A sensible approach would have been to run with emergency rations and while I am sensible most of the time, I wasn't on this occasion. I was doing quite well, as I approached the final aid station I could feel that the gas was running low however. I decided I needed something to get me to the finish. A cup of water and a quarter of a banana seemed to have the opposite effect on me that I had hoped for. All of a sudden, whatever energy I had left in me just drained away completely.
At the top of the hill that had reduced me to a walk I attempted to start running again. My legs weren't listening, I slowed to a walk again but found myself struggling to walk in a straight line and I had to fight the urge to collapse in a heap in the grass at the side of the trail. I knew Sarah wouldn't have been far behind as the women's race leader had just come past me. I was right. As I continued to walk Sarah approached me. She stopped to check if I was OK. My slightly slurred speech suggested otherwise. Thankfully she asked a fellow competitor if he had any nutrition for 'her friend'. What I love about this kind of event is the camaraderie, this guy unselfishly gave me the very last of his nutrition. Her job done Sarah chirped 'Do you mind if I carry on? I'm in second place!'. 'Go for it, I'll see you at the finish' I said as I waited for half an energy bar to hit my bloodstream. It took a while, perhaps 20mins before it did hit me and only then could I manage a jog on the easiest of terrain.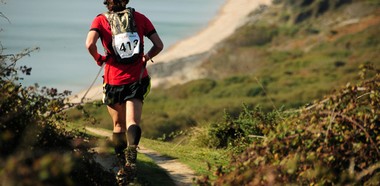 I managed to cross the finish line running but only just, thankfully the finish is flat. Sarah had indeed finished second female in the half-marathon. I found out that I had about 2:15 to 2:30Â hours of strenuous running (and walking) in me before I would unceremoniously hit the wall. I am better placed to come up with a nutrition and hydration plan for my races next year. Despite the fact I had never felt so awful in a race I still really enjoyed it. It is a beautiful coastline and it was a fantastic sunny winters day with blue skies and only a gentle wind blowing. So I got chicked by my own girlfriend but worse things can happen, I could have been chicked by Hannah again too! See you tonight, Tim (LFTC coach).